DST100 provides DVB-Subtitles on RTL HD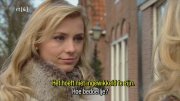 Click image for larger picture
ITNM Systems has delivered a new DST100 system to BCE in Luxembourg. The ITNM Systems DST100 runs on the HD-channels of RTL Nederland and is responsible for the teletext and DVB-subtitles on these channels. The ITNM Systems DST100 is also in use at several European cable operators for generating DVB-subtitles and correcting teletext on HD channels.
The new software version provided to BCE enables RTL to add DVB-subtitles for the hard of hearing for popular programmes such as 'RTL Nieuws' and the soap 'Goede Tijden, Slechte Tijden'.

In the BCE case the ITNM Systems DST100 receives the SD channels of RTL on one ASI input and the RTL HD channels on the other ASI input. The DST100 repackages the teletext provided in SD for achieving precise technical and visual synchronisation with the HD video (delay and PTS-STC synchronisation). At the same time the DST100 generates DVB-subtitling from teletextpage 888, yielding better and prettier results on HD receivers.